Senior Rehabilitation and Therapy Services in
Southbury, Connecticut
Back where you belong.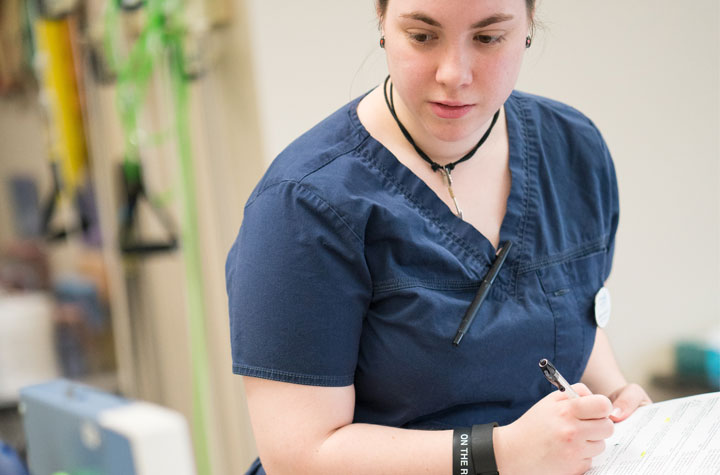 Helping you get back to your best self as quickly and safely as possible. Gaining strength and maximum mobility as you recover from illness, injury or surgery. You don't have to be a resident to access the specialized senior rehabilitation and therapy services at Pomperaug Woods, as we welcome all Southbury-area seniors.
We're proud to offer a high-presence clinical model for subacute care, with licensed therapists and registered nurses on-site seven days a week. These specialists understand the challenges of recovery for post-hospital care and other types of short-term rehabilitation. They'll design a personalized treatment plan to offer you practice in the skills needed to return to your normal lifestyle and welcome routine.
Our rehabilitation center is a welcoming setting for short-term care, including treatment by licensed therapists for:
Physical therapy — Regain strength and balance, increase range of motion, help prevent falls, and decrease pain. Therapeutic exercises and activities are designed to help increase muscle function, balance, coordination, endurance and mobility.
Occupational therapy — Based on your needs and mobility, help to safely and independently perform activities of daily living, including cooking, bathing and dressing. Learn to adapt tasks and modify the environment to regain the ability to resume normal activities.
Speech therapy — Treatment plans address communication problems, comprehension skills, memory loss and swallowing difficulties while working to improve language, listening, thinking and safe eating practices.
Senior rehabilitation and therapy services are available to residents of Pomperaug Woods and other Southbury-area seniors who are recuperating from illness, injury or surgery as inpatients in our Health Center. Rehabilitation is payable on a month-to-month basis, with many stays paid for by insurance or Medicare.
Contact us by completing the form on this page to learn more about senior rehabilitation and therapy services in
Southbury, CT.

For immediate assistance, call 203-936-8985.