Senior Care and Health Services in
Southbury, Connecticut
Circled with support, always.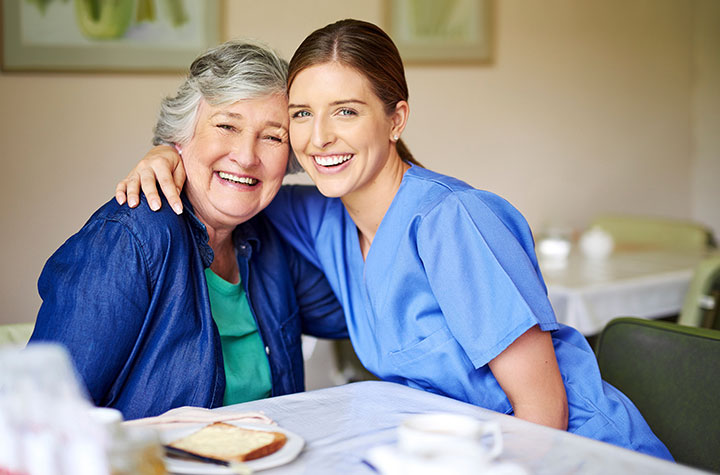 Whether you currently live at Pomperaug Woods, live in the Southbury area, or are moving to be closer to family and friends, our full continuum of on-site senior care is designed to help you maintain optimal health, every step of the way.
In each level of living, carefully selected caregivers honor each resident's personal story with the utmost respect for established daily routines and preferences. A shoulder to lean on for family members too, they're experienced with seamless, stress-free transitions through the continuum of care.
Our forward-thinking approach to assisted living allows residents to remain in their independent living apartments. And unlike health services delivered in institutional settings, our short-term and senior rehabilitation, skilled nursing, respite and hospice care are provided under one roof, in a gracious, warm environment. Celebrating life, in community.
While expert medical attention is the priority, our Life Plan Community also furthers fulfillment, freedom and choice through an engaging environment and The Art of Living Well program. That's why Pomperaug Woods was recognized by U.S. News & World Report as one of the top senior health service providers in Connecticut for 2020.
Contact us by completing the form on this page to learn more about senior care and health services in
Southbury, CT.
The health needs of our residents come first, and they have priority access to our Health Center. As space is available — and it often is — seniors in the surrounding areas are welcome to take advantage of our senior rehabilitation, respite care, assisted living, skilled nursing and hospice through direct admittance.
Our professional staff includes:
Director of nursing
Registered and licensed practical nurses
Licensed social worker
Dietician and nutritional counselors
Licensed physical, occupational and speech rehabilitation therapists
Yes. Unlike many other retirement communities throughout the state of Connecticut, the Health Center at Pomperaug Woods is fully Medicare-certified. If you qualify for Medicare, you won't have to waive your right for Medicare coverage at Pomperaug Woods. Medicare could cover many aspects of your care including meals, medicine, housing, therapy and more. If you receive care in a community that is not Medicare-certified, many of these costs would have to be paid out of pocket.