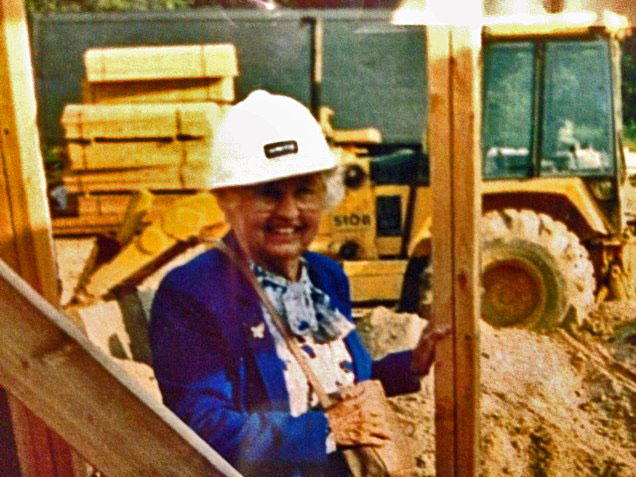 Elizabeth Avery Wilson
May 30, 1912 – August 8, 2014
Some of you had the pleasure of knowing our "founding mother," Dr. Elizabeth Wilson. Through her determination and hard work with the original board of directors, Dr. Wilson was the driving force behind the development of Pomperaug Woods.
Dr. Wilson was born in Syracuse, New York. Her education included a B.A. in English from Syracuse University in 1934 and an M.A. in nutrition from Teachers College at Columbia University in 1939. In 1940, she received her Master of Public Health from Massachusetts Institute of Technology in Cambridge, Massachusetts, and in 1947, her doctorate in education from the University of Washington in Seattle. During the early years, Dr. Wilson taught both high school and junior college. She also held the position of supervisor of health, teaching and curriculum development for Onondaga County, New York.
Dr. Wilson was a nutritionist for the New York State Department of Public Health, and during World War II, she served as a U.S. Naval Reserve officer. Following the war, Dr. Wilson joined the Florida State University faculty as associate professor of health education. In 1947, she was appointed to the headquarters staff of the American Association of Health, Physical Education, Recreation and Dance (AAHPERD).
She continued as a health education consultant until 1958. In this role, Dr. Wilson also served as the National Education Association's staff person for the Joint Committee on Health Problems in Education of the National Education Association and the American Medical Association. Dr. Wilson's 10-year tenure was one of the most active and productive for health education in AAHPERD's and the Joint Committee's history.
In addition to her other accomplishments, Dr. Wilson played a major role in developing and conducting 11 national conferences on school and college health education. These helped establish health education as a professional field of study, and led to a rapid increase in the number of higher education institutions offering health education programs.
In 1979, Mrs. Wilson approached Life Care Services® (LCS®) to suggest development of a life care community in Southbury, Connecticut. Over the next few years, she worked with LCS and the town planning committee to develop public support.
In 1981, Pomperaug Woods was incorporated, and federal and state approvals were sought for 30 skilled nursing beds. Additional meetings with state agencies had to occur, and it wasn't until 1984 that Mrs. Wilson and the board received approval.
That same year, Mrs. Wilson and the board had to begin the process again for state approvals. The opposition tried to delay and derail the project at public hearings, but all necessary permits and zoning approvals were finally received, and land clearing began December 15, 1986.
The health center was completed and licensed in April 1988, and the first residents moved in during May. Mrs. Wilson herself moved into Pomperaug Woods that year, with the dedication ceremony taking place October 16.
Mrs. Wilson was an incredible, dynamic and unassuming woman. When speaking about Pomperaug Woods' development, she would tell hair-raising stories of the opposition and how she, who had never been in trouble with the law, was even threatened to be jailed at one point. I think that was her favorite story, and she always told it with a big smile.
Mrs. Wilson's dream continues to live on in the daily operation of Pomperaug Woods and its mission. To honor Mrs. Wilson, Pomperaug Woods will celebrate what would have been her 110th birthday on May 30. We'll serve a special meal with wine and birthday cake for dessert.
By Kevin Moshier